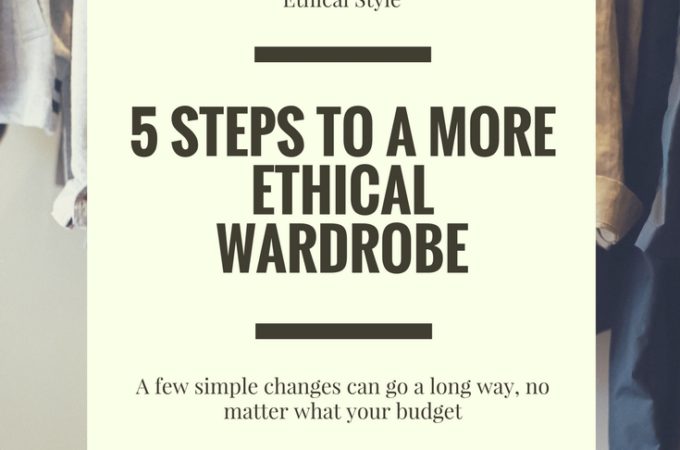 5 Steps to a More Ethical Wardrobe
Moving towards a more ethical wardrobe can often seem daunting. Where do you start? What should you buy? How do you know if it is ethical or not? Well, those are all great questions, but to get you started, we've put together 5 steps to a more ethical wardrobe:
Take better care of what you already own.

The most important thing anyone can do, in any area of their life, to be more eco-friendly and ethical, is to simply reduce what they purchase. The best way to do this is to take good care of your existing clothes, and repair them when they need it. Find a good cobbler and tailor in your area, and a wash routine that works with your situation.

Buy less, and only what you absolutely love.

Again, buying less is the most ethical way. If we stick to buying what we love, we will have an ethical wardrobe full of loved, well taken care of things that we look forward to wearing and caring for.

Buy better quality, more durable items.

This helps with steps one and two. If you buy higher quality items, you should by nature love them more, and they should last longer. If you must buy something new, make sure it is high enough quality to stand the test of time. Cheap, fast fashion ends up in a landfill very quickly, and it isn't produced in an ethical way.

Buy Vintage.

This goes along with reducing what is produced and thrown away. By buying vintage, you are prolonging its life, keeping it out of a landfill and reducing the new items that are produced in a non-ethical way.

Look for ethically made brands and items.

Look for brands that meet your aesthetic and ethical values. Need help finding a favorite? Take a look at our list of ethical clothing and accessory lines, or pop in to our shop.
Have questions on building a more ethical wardrobe? Want some styling assistance? Let us know, and we can work with you to find brands and stores that fit your taste.
Recommended
8 Comments