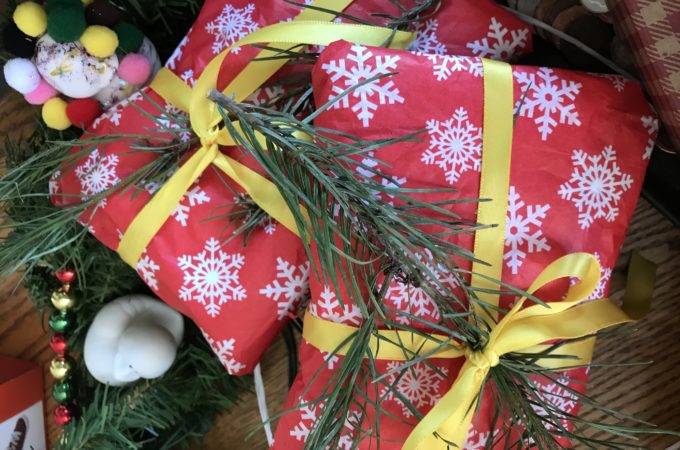 7 Ideas For More Ethical Gift Giving
Obviously, we are big believers in making our purchases as ethical as possible, and this time of year, it sometimes becomes more difficult. Beyond what we buy, there are other ways to keep the planet and people in mind. Here are a 7 ideas for more ethical gift giving that we are working on to make our holiday season a little more ethical, and maybe a little more sane.
1. Wrap with what you have.
This year, I set a goal to wrap every single present in materials I already had. No new paper, bows or accessories (new tape and tree trimming are allowed). I have three gifts to go, and have succeeded so far. It took a little longer, and the gifts are not at all cohesive, and some aren't that beautiful (but my little one doesn't seem to care!). But, it forced me to get creative, slow down, and enjoy my wine while I wrapped. I keep a drawer of bags, bows, paper, etc. to reuse, but if this isn't an option, consider finding recycled and eco-friendly wrapping, like this and this. Need more incentive? Take a look at this. Just a few presents could make a big difference.
2. Donate in someone's name.
My mom has everything, and if she doesn't have it, she will get it. This makes her particularly difficult to buy for her. We all have someone like her on our list. Find a charity that resonates with you and the recipient and give. I have found that this one of the gifts I enjoy giving the most.
3. Gifts that give back
.
This season of giving, find something that gives to more than one person. Brands like Able and Raven and Lily are great places to start, or take a look at our Give Back Gift Guide.
4. "Gift Certificates"
A good friend of mine got sick this year, and could not shop. So, all of the adults got booze and all of the kids got gift certificates for things like, "bowling," "ice skating," "a day skiing," and "bounce house." I imagine that her nieces and nephews are thrilled to have a day with their aunt, and she is creating memories and not waste. Your loved ones want your presence more than your presents (I know, cheesy, but true). Plan your next girls' weekend, bring over a bottle of wine and binge watch Netflix. Listen. Have fun.
5. Do Something Together
Take your sister to a show, go on vacation with your boo, learn how to knit. Do something together. Go stag and call it a gift. One of my favorite gifts was a relaxing trip to Palm Springs in January with Alex. No stores involved!
6. Make something
.
Cookies (yum!), hats (cozy!), paintings (beautiful!). Whatever it is, make something from the heart. We love a mason jar beauty treatment, or a uniquely flavored vodka.
7. Shop from just one (ethical) store.
Make a list of necessary gifts, and find one store that will work for you. You'll save the carbon footprint of multiple shipments and boxes, and the peace of mind of one stop shopping is incredible. Trust me on this one.
What have you done to reduce your footprint this season? We would love to hear!
Recommended